This April, our Nasty Woman of the month is Winona LaDuke, a tireless indigenous peoples and environmental activist and writer, who is serious about saving the planet. Like all the women featured in our Year of the Nasty Woman planner, LaDuke inspires us daily to be more mindful and active. We're happy to share a few of the ways we're doing our part here at Google Ghost to reduce, reuse, and recycle. As LaDuke says, "There is no social-change fairy. There is only change made by the hands of individuals."
Did you know that the average American produces about 
4.4 pounds
 of waste 
daily
? To put that into perspective, the waste one person in America produces yearly is equivalent to the weight of an average cow or the height of the 
Leaning Tower of Pisa
.
That's a crazy amount of waste. Check out some of our daily practices at Google Ghost that help us cut down on waste production!
Recycle and Reuse
 - With all of those awesome products arriving such as the Nasty Woman t-shirt or super cute pins, we have a lot of cardboard boxes coming our way. We both recycle and repurpose them for storage. If only we had the skills to use them to build out the Google Ghost office like these killer examples featured in 
The Atlantic
. 
Reduce - As a mostly e-commerce business, we have to ship, a lot. In order to minimize our impact, we use Earth-friendly products and practices to ship our items to you:
100% Recycled Boxes: We use boxes made from 95% post-consumer and 5% post-industrial content, which means they're fully recyclable and biodegradable.
Recycled Poly Mailers: Our mailers are made from a minimum of 88% recycled content, which utilizes post-consumer and post-industrial waste. 
Water-Activated Tape: And our water-activated tape is recyclable, biodegradable, and repulpable. This means we use plastic tape very sparingly!
Thermal Printing: We use a thermal printer to print our shipping labels and packing lists. Thermal printers use heat to transfer images to heat-sensitive paper, which means we're not adding a ton of ink cartridges to our local  landfills.
Eco-friendly Products - Loving our Year of the Nasty Woman planner? Here's another reason to go head-over-heels: Our planner features 70 lb. paper that is FSC® certified as well as SFI® Certified Sourcing and Rainforest Alliance Certified™.
Made in the USA - All of our shirts are made in America. Producing these products domestically means we can help ease the amount of pollution from importing goods and ensure that our clothing is also sweatshop free!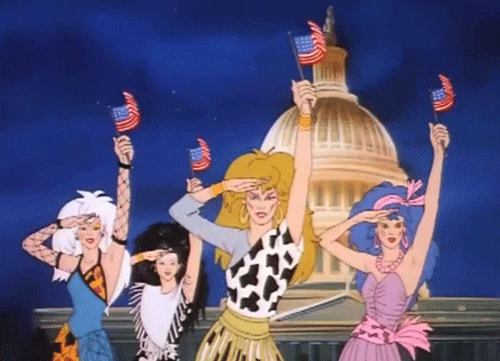 We're doing what we can to cut down on waste, and as we grow, you can bet we'll be expanding our eco-friendly practices and products. Throughout the month, we'll be pointing out specific ways you can get active and up your environmental game. In the meantime, check out this wildly creative story from 99% Invisible on how Taiwan transformed its residents' relationship to garbage disposal and incentivized waste reduction.  
Your actions matter. Stay strong. Stay nasty.