Shrill Society aims to make people, particularly women, laugh, think, and hopefully become more socially active through product design, collaborations, and events. Like our flagship collection of Nasty Woman products, Shrill Society is a play on the word "shrill," which has been historically used to rob women of power.
We intend to give it back.
We started off viral, but it's much more than just sloganeering. Our products are created in ethical working conditions that reinforce our politics--to make the world a safer place for women and girls. That means no sweatshops, domestic production, and recyclable shipping materials. And because our individual stories matter, we connect you to the artists and makers we feature and women making a difference all over the world. We use smarts and humor to provide context, enable conversation, and build relationships. We don't believe in shaming one another for where we are on our respective political journeys. Instead, we offer tools to empower each other to find our voices, make our choices, and follow our passions.
We'll always have a special place in our hearts for our Nasty Woman tee, but we're not stopping with one symbol. Our goal is to create ongoing products that expand upon women's significant contributions to our shared history and shape how young women tell their stories in the future. Stay nasty.

People think Shrill Society is some mega ecommerce platform. We're not. We started as one person making shirts and pins as a hobby. On October 19, 2016, our founder Amanda was watching the third presidential debate when she heard Trump call Clinton "such a nasty woman" under his breath. This sort of thing isn't new for most women—we've all shown up prepared, confident, and ready to work when someone has degraded us for attributes they'd praise in a man. Pissed, she immediately mocked up a shirt and had it for sale online before the debate was even over. By morning there were over 10,000 orders. The shirt had gone viral! It had been picked up by New York Magazine's The Cut, Teen Vogue, Elle Magazine, and about 50 other articles.
There was immense pressure throughout to cave, give-up, fail, or cut corners. Instead, Amanda worked diligently to make good on her promises to produce an American-made and sweatshop-free t-shirt that used organic and eco-friendly inks and that donated 50% of the proceeds to Planned Parenthood. She hired a CPA to ensure everything was transparent and honest and enlisted her best friend and creative partner Cameron to help build something awesome. Months later, the shirts are still selling, new items are being added, and Shrill Society has donated over $131,000 to Planned Parenthood, the American Civil Liberties Union, and Earthjustice.
Our small and amazing team continually explores ways to affect positive change—through our products, our online platform, our charitable contributions, and most of all, through empowering all of you to become the change this world needs.
AMANDA BRINKMAN, FOUNDER
Amanda Brinkman is the creator of the viral Nasty Woman t-shirt and Nasty Feminist game. An unabashed pop culture-junkie, she's especially interested in the intersection of feminism + mass culture. Whether it's through the lens of contemporary art, film, literature, or new media--she has always been interested in the ways that women and femme-identifying people can harness the power of pop culture to explore larger issues and create positive change.
She has over twelve years experience in contemporary visual arts, successfully organizing programs related to her work in feminism + pop culture. She is a co-founder of Pelican Bomb in New Orleans and have led art and education initiatives at institutions across the country. At the School of the Art Institute of Chicago, she taught an undergraduate course on pop culture and philosophy, as well as traveled nationally to present her unique work on Twilight fan communities and the importance of female-led pop-cultural movements.
1. Made by and for women
2. Ethically produced and kind to the environment
3. Purposeful and context-driven: our goods help drive positive change and tell stories
4. Well-designed: we bring together the best in creativity and quality craftsmanship
5. Fun: our goods don't take themselves too seriously, and neither do we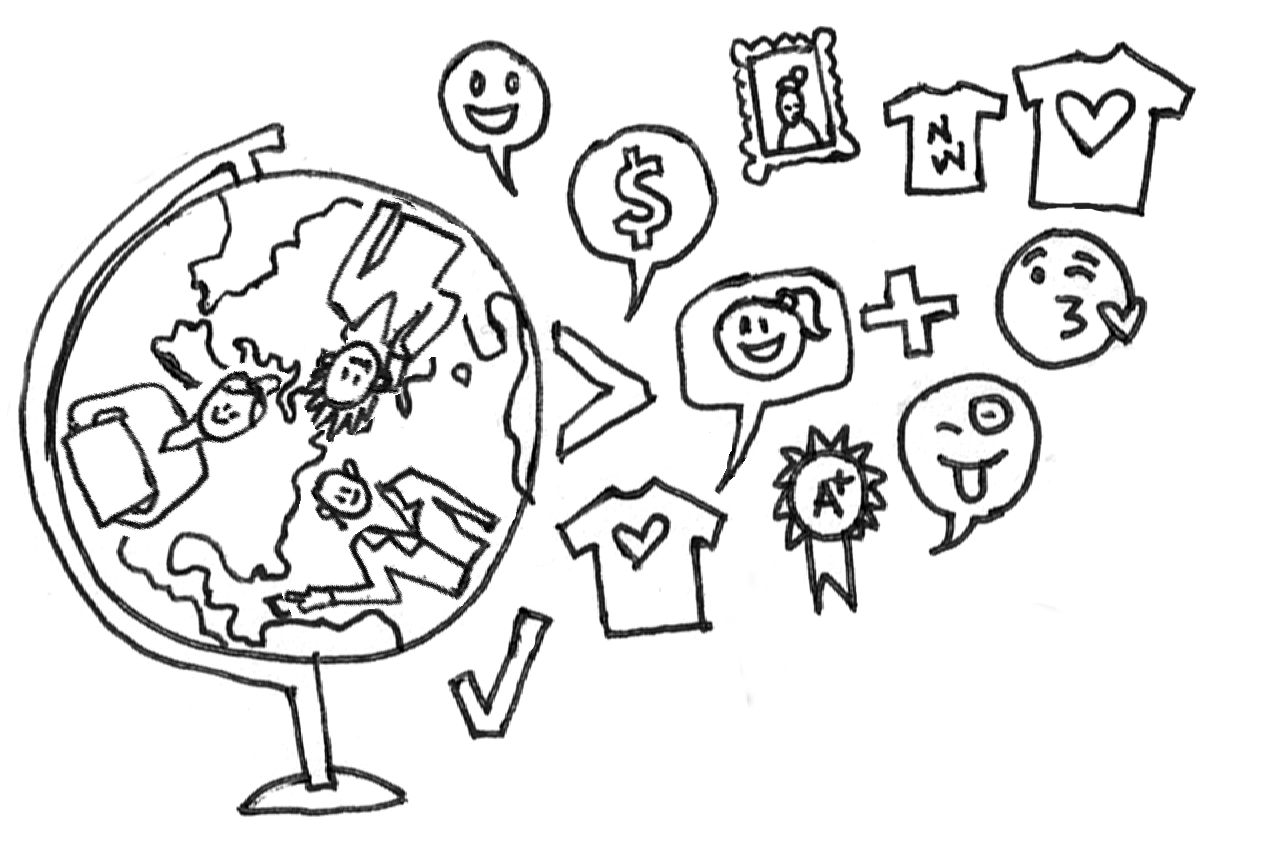 HOW OUR PRODUCTS ARE MADE
We're proud of using ethical production methods--not using sweatshop labor, making things in America, and using recyclable shipping materials. Women and girls make up 85% of the people employed by the global garment industry, and many of these women and girls work in poor conditions for limited pay and with very few, if any, human rights protections. We don't believe in slapping feminist slogans on shirts and then using underpaid and undervalued labor of these invisible women and girls. All our t-shirts are manufactured in downtown LA by people earning a living wage. From there, our shirts are printed locally in the Bywater, New Orleans (our neighborhood) by a small independently owned print shop using organic and eco-friendly inks.  
While oil is the most polluting industry, many are surprised to discover that the fashion industry is the second most polluting industry in the world. Being a small, independently owned business means we're producing--and polluting--less. We cut down on air and travel miles and lessen our carbon footprint by only using USA-made materials and printing locally. All our packing and shipping materials are recycled and earth-friendly products from EcoEnclose. We repurpose and reuse all our materials--we even save and repurpose damaged apparel--giving them a second (or third) life!